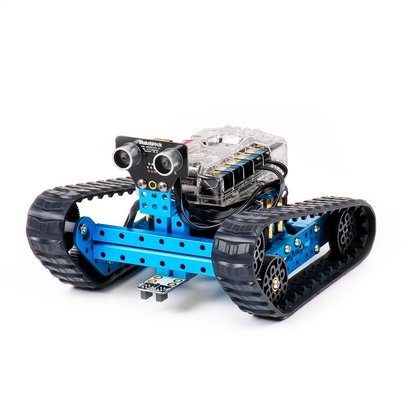 makeblock
mBot Ranger Robot Kit (Bluetooth Version)
MAK-90092
Beschikbaarheid:

Niet op voorraad

Levertijd:

Levering verwacht
Makeblock mBot Ranger is een 3-in-1 educatieve robot voor leeftijd 10+ ...
Meer informatie
Productomschrijving
Merk:

makeblock

Artikelnummer:

MAK-90092

Beschikbaarheid:

Niet op voorraad

Levertijd:

Levering verwacht
Makeblock mBot Ranger is een 3-in-1 educatieve robot voor leeftijd 10+
mBot Ranger is een geavanceerde versie van de mBot, die in 3 modellen kan gebouwd worden: drie keer het plezier! de mBot Ranger leert kinderen op een speelse manier over STEAM.
Makeblock mBot Ranger - Multiform Land Explorer
Met meer dan 100 mechanische en elektronische onderdelen, bouw je 3 modellen uit één set (Off-Road Land Raider/Dashing Raptor/Self-Balance Nervous Bird).

 Dankzij de commandoblokken, leer je stap voor stap programmeren.

Volg stap voor stap de handleiding  of ontwerp je eigen unieke robot. Je enige beperking is je verbeelding

Personaliseer je robot met de speciale accessoire pakketten.

Je kan de mBot Ranger eenvoudig programmeren met de smartphone app of het uitgebreide softwarepakket (iOS/Android). It's easy to code the mbot Ranger from your smartphone with the Make block blocks app (iOS/Android).

 Het krachtige Me Auriga mainboard heeft 6 types sensoren en 10 uitbreidings interfaces.

Compatibel met het Makeblock platform and LEGO® blocks, waardoor je eindeloos plezier beleeft aan je Ranger.
With multiple integrated functions, Ranger is the ideal companion for children as they explore the world
mBot Ranger integrates six types of sensor including: Light sensor, Temperature sensor, Sound sensor, Ultrasonic sensor, Line Follower sensor and Gyroscope. This broad range of sensors allows Ranger to perform a variety of functions including data collection, line following and obstacle avoidance. Children can also use Ranger to work on interesting projects, such as traversing the Antarctic to assist with scientific research!