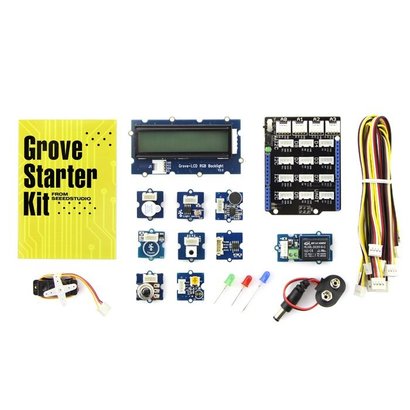 Seeed
Grove - Starter Kit for Arduino
SEE-110060024
Beschikbaarheid:

Op voorraad

Levertijd:

1-2 werkdagen
Grove Starter Kit for Arduino is one of the best Arduino Starter Kit for beginners. It includes one Arduino compatible shield - Base shield and 14 additional Arduino sensors and accessories. You can build any Arduino project you like with this Grove Start ...
Meer informatie
Productomschrijving
Merk:

Seeed

EAN:

841454107576

Artikelnummer:

SEE-110060024

Beschikbaarheid:

Op voorraad

Levertijd:

1-2 werkdagen
Features
Well-selected Grove modules with different functions including sensing, input, display, etc, very suitable for beginners.

Cost-effective compared to other starter kits for Arduino.


Well packaged with soft internal slot structure, protecting the product very well.

No soldering, no jumper wires.

Full Arduino library for Grove is provided. 


Detail instructions for each Grove module in our

wiki 

system.
Attention: Please note that this kit is fit for 5V boards. Some modules are not compatible with the 3.3V development board.
Description
As an open-source hardware facilitator, we dedicate to make electronic prototyping easy and fast, and we believe that more effort should be put on concept design rather than how to build basic circuits especially in the idea phase. That is why we created Grove. We have released a blog about the introduction of the kit and some basic projects. It will help you get started. Wish you have fun with Grove products.
Grove is a modular electronic platform for quick prototyping. Every module has one function, such as touch sensing, creating audio effect and so on. Just plug the modules you need to the base shield, then you are ready to test your idea buds.
This Grove - Starter Kit for Arduino is a perfect starter kit for Arduino beginners. It includes a Base Shield which has many Grove connectors onboard, twelve Grove modules that cover most functions needed by a beginner, and a very helpful user manual that can help get started quickly. We have this part available in Geppetto. Easy modular electronic design with Seeed and Geppetto. Build it Now!
Note: This kit does not include Arduino board.
Technical details
| | |
| --- | --- |
| Dimensions | 0mm x0mm x0mm |
| Weight | G.W 305g |
| Battery | Exclude |
Part List
| | |
| --- | --- |
| Base Shield | 1 |
| Grove - LCD RGB Backlight | 1 |
| Grove - Smart Relay | 1 |
| Grove - Buzzer | 1 |
| Grove - Sound Sensor | 1 |
| Grove - Touch Sensor | 1 |
| Grove - Rotary Angle Sensor | 1 |
| Grove - Temperature Sensor | 1 |
| Grove - LED | 1 |
| Grove - Light Sensor | 1 |
| Grove - Button | 1 |
| DIP LED Blue-Blue | 1 |
| DIP LED Green-Green | 1 |
| DIP LED Red-Red | 1 |
| Mini Servo | 1 |
| Grove Cables | 10 |
| 9V to Barrel Jack Adapter | 1 |
| Grove starter kit Manual | 1 |
| Green Plastic Box | 1 |