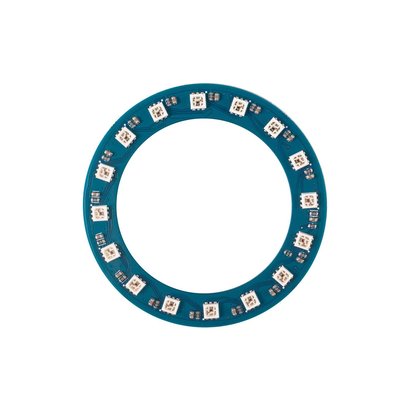 Seeed
Grove - RGB LED Ring (16-WS2813 Mini)
SEE-104020171
Beschikbaarheid:

Op voorraad

Levertijd:

1-2 werkdagen
Grove - RGB LED Ring (16-WS2813 Mini) is a cost-effective full color LED ring with 16 chainable and programmable WS2813 mini LEDs. ...
Meer informatie
Productomschrijving
Merk:

Seeed

Artikelnummer:

SEE-104020171

Beschikbaarheid:

Op voorraad

Levertijd:

1-2 werkdagen
16 diamond-like full-color WS2813 Mini LEDs are placed around a 58 mm diameter ring, my friends, let's dance with those shinning LED rings.
The WS2813B-Mini intelligent control LED is an upgraded version of WS2812B, the control circuit and RGB chip are integrated into a package of 3535 components. With the help of the build-in control circuit, each LED is addressable. So you can control the lighting and color of specific LED lights as you like, creating endless lighting effects. A significant advantage of WS2813B-Mini compared to traditional LED is the support for signal break-point continuous transmission. This means that even if one or two LEDs are damaged, the entire LED ring will still work properly.
Each LED is chainable and we also keep the chainable pads on the back of the LED rings, so you can cascade several LED rings to make it even cooler. Since all those Grove - RGB LED Rings are based on WS2813 Mini, you can also connect the rings of different diameters together.
Features 
256 gray levels, 256*256*256=16777216" full-color display
Built-in control circuit in a 3535 components
Chainable, can be cascaded with multiple LED rings
Support 5V/3.3V power in, support 5V/3.3V control data level.
Dual-signal wires, signal break-point continuous transmission