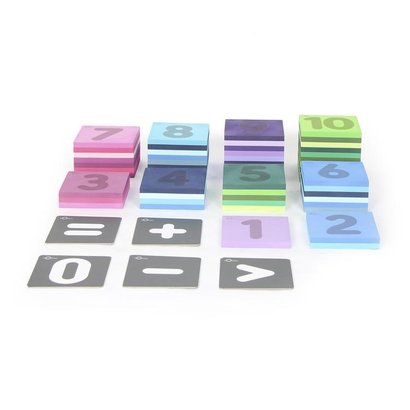 bObles
Number Blocks
004-93-015-000
Availability:

In stock

Delivery time:

1-2 days
This colored block set consists of 10 blocks with numbers and calculation cards. The higher the number, the more layers the block has. ...
More information
Product description
Brand:

bObles

EAN:

5704531003701

Article number:

004-93-015-000

Availability:

In stock

Delivery time:

1-2 days
1-2-3 – get ready for play with bObles Number blocks. Climb the numerous stairs and jump from 5 to 7 or add the blocks on top each other and make the highest tower – how many numbers did you count?
With bObles Number blocks you play and move while you are learning. Number blocks consist of 10 foam blocks (with numbers from 1 – 10) and 6 counting symbols, which makes mathematics a breeze. The number of stripes on each block matches the number marked on it, which gives a fantastic opportunity for big and small to get to know the different numbers in a fun way.
bObles tumbling furniture is made of firm EVA foam without any dangerous phthalates. The material is soft, easy to clean and does not leave any marks in the floor. Tested for children.
Size: H 1,4 – 14, L 15, W 15 cm
All our products are finished by hand and none of them are exactly alike. The size may vary a bit.