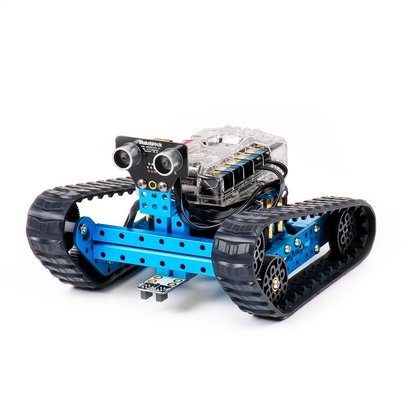 makeblock
mBot Ranger Robot Kit (Bluetooth Version)
MAK-90092
Availability:

In stock

Delivery time:

1-2 days
Makeblock mBot Ranger 3-in-1 educational robot kit for age 10+ ...
More information
Product description
Brand:

makeblock

Article number:

MAK-90092

Availability:

In stock

Delivery time:

1-2 days
Makeblock mBot Ranger 3-in-1 educational robot kit for Age 10+
mBot Ranger is an advanced version of mBot, that comes with 3 preset forms, for three times the fun! From construction and operation through to programming, Ranger allows children to receive STEAM education in a simple and fun way. Ranger also gets children started on robot programming, advancing with them as they grow and develop their problem solving abilities.
Makeblock mBot Ranger - Multiform Land Explorer
With 100+ mechanical parts and electronic modules,you can build 3 models (Off-Road Land Raider/Dashing Raptor/Self-Balance Nervous Bird) from one set.

By simply dragging and dropping command blocks, you'll learn to code step by step.

Follow the easy to read guide provided or design your own unique robot. Your child's imagination is the limit. Create, enhance and explore designer options to create new variations of the mbot Ranger. Pa and personalize mbot Ranger with special add-on packs. With a few basic skills, your child can rapidly bring their creativity to life. It's easy to code the mbot Ranger from your smartphone with the Make block blocks app (iOS/Android). advanced coding software is also available (windows/macOS) and is one of make block's most popular entry-level coding programs.

Powerful Me Auriga mainboard with 6 types of sensors and 10 extension interfaces.

Compatible with the Makeblock platform and LEGO® blocks, mBot Ranger will bring you limitless fun.
With multiple integrated functions, Ranger is the ideal companion for children as they explore the world
mBot Ranger integrates six types of sensor including: Light sensor, Temperature sensor, Sound sensor, Ultrasonic sensor, Line Follower sensor and Gyroscope. This broad range of sensors allows Ranger to perform a variety of functions including data collection, line following and obstacle avoidance. Children can also use Ranger to work on interesting projects, such as traversing the Antarctic to assist with scientific research!