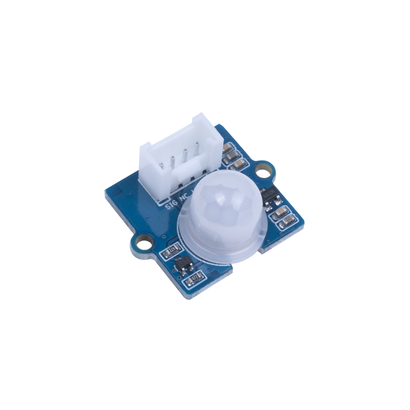 Seeed
Grove - Digital PIR Motion Sensor(12m)
SEE-101020793
Availability:

In stock

Delivery time:

1-2 days
Grove Digital PIR Motion Sensor is a simple and intuitive digital motion sensor. ...
More information
Product description
Brand:

Seeed

Article number:

SEE-101020793

Availability:

In stock

Delivery time:

1-2 days
Key Features
High sensitivity: Able to output "high" or "low" level quickly
Budget-friendly: Cheapest PIR Sensor in our PIR family 
Easy to edit code: No additional library required
Interface: Grove interface
Description
PIR sensor is an IR sensor to detect human motions. This Grove Digital PIR Sensor is the cheapest PIR sensor in the PIR families, however, it is able to give a quick response and generate a high signal from the "sig" Pin. 
With the Grove interface, the Grove digital PIR Sensor is easy to be plugged and played. And it doesn't need any Arduino Library. 
Specification
| Item | Value |
| --- | --- |
| Voltage range | 3V–5V |
| range | 3.2m-12m |
| Response time | < 1s |
| Working temp | -20-85 C |
| Interface | Grove |
| Dimensions | 20mm * 20mm * 11.5mm |
| Weight | 3g |
| Battery | Exclude |
Comparison
Product
Features
Grove - PIR Motion Sensor
Max Distance:3-6m(3m by default)

Angle:< 120°
Measuring distance and holding time adjustable

response speed:0.3s - 25s
Grove-Adjustable PIR Motion Sensor
Max Distance:3-6m

Angle: X=110° Y=90°
Measuring distance and holding time adjustable
Grove - mini PIR motion sensor
Max Distance:2-5m(2m by default)

Angle: X=110° Y=90°
Sensitivity adjustable

Mini-size
PIR Motion sensor module
Max Distance:3-7m

Angle:< 120°
Sensitivity & Delay time adjustable
Grove Digital PIR Motion Sensor
Max Distance: 3-12m

Angle:< 100°
Mini-size

Simple and intuitive
Part List
1 x Grove Digital PIR Motion Sensor
1 x Grove cable